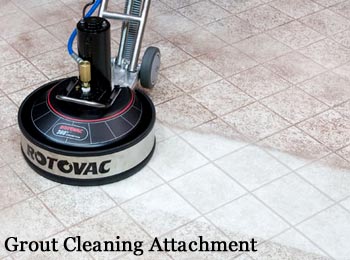 Tile & Grout needs to be maintained and cleaned on a regular basis. If it is not maintained on a regular basis typically, it will need restorative cleaning to get all the dirt, grease, and grime off that can build up over time. We provide both maintenance cleaning, as well as restorative cleaning with the use of two very different commercial grade cleaning machines. Here is what they offer:
Counter Rotating Brush machine/Commercial Steam mop combo The counter rotating brushes of the machine scrub the tile and grout in opposite rotating directions at 750 RPM. The power, friction, and solution combination provides AMAZING results in light to medium soiled flooring. We scrub the floor with the CRB machine, then follow up with a steam cleaning mop to leave your tile floor sparkling CLEAN & PRISTINE!
Rotovac 360i w/1200 PSI HOT WATER uses a rotating brush head with 3 jets that pressure wash the surface of the floor with 1200 PSI of hot water after solution is applied, while simultaneously vacuuming up the dirty water, leaving your flooring EXTRA CLEAN & PRISTINE!
Re-sealing of Grout lines with Color Matching is Included!!
Click Book Online to set up a Tile & Grout Maintenance and Restoration Cleaning